The Artevia architectural / decorative concrete range exceeds the limitations of traditional building materials by combining the advantages of concrete and impressive design materials.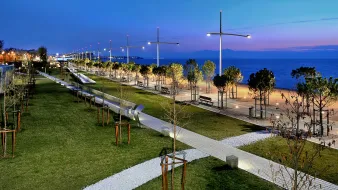 Artevia Desactive, Νέα Παραλία Θεσσαλονίκης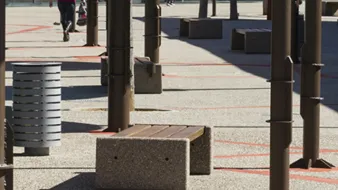 Artevia Desactive, Εκπτωτικό Πάρκο "Smart Park" στα Σπάτα Αττικής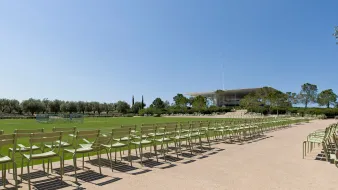 Artevia Stone, Πάρκο Σταύρος Νιάρχος στην Καλλιθέα Αττικής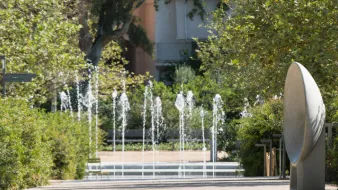 Artevia Stone, Πάρκο Σταύρος Νιάρχος στην Καλλιθέα Αττικής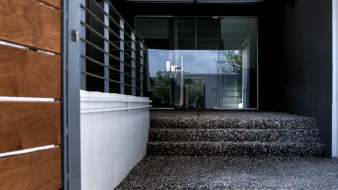 Artevia Desactive, Ιδιωτική κατοικία στη Θεσσαλονίκη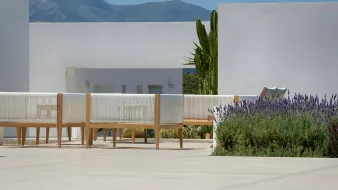 Artevia Polish, Ιδιωτική Κατοικία στην Πάρο
More information about Artevia®
A world of colours, patterns and materials. Artevia Special Concretes offer complete freedom in design, differentiation in texture and appearance and a unique final result, building the architectural identity of each project.
Excellent adaptation to complex shapes, fast application, resistance to wear & tear and low maintenance costs, creative freedom with a wide range of choices in the colour or the texture of the final surface, are some of the competitive advantages of the Artevia range that allow the creator to push the boundaries and reach the unexpected.
The discount Smart Park in the Spata region of Attica is the first hybrid discount park in Greece with a total surface area of 9.1 acres, of which 3 have been landscaped into green areas. The industrial aesthetics and the innovative design of the space were highlighted with the architectural Artevia Desactive concrete, which covered more than 10,000 m2.
Artevia® Desactive was selected for the construction of the floor with a total area of 70,000 m2 on the coastal front of Thessaloniki, for the entire open surface of the New Waterfront reconstruction project, as well as the areas between the theme parks.
Requirements regarding durability simultaneously increased on both projects due to high traffic, whereby a reliable solution was sought that would not wear out over time and without requiring frequent maintenance.
Artevia® Desactive was able to meet all the specifications and expectations by ensuring timeless economy in the application, user safety, high durability and aesthetics.
The products in the Artevia range
A reliable and homogeneous concrete for outdoor areas that is available in many colours for elegant surfaces in any environment. Its pebble surface makes it non-slip and ideal for extreme conditions.
This is a collection of coloured concretes with a broad palette of shades. It allows the creation of colourful combinations and since the concrete bears color throughout its mass, its wear over time is insignificant.
A range of "patented stamps" with a final look of stone and other natural materials. It is durable concrete with low maintenance costs.
It has a smooth texture with visible aggregates as in traditional mosaic. It is designed for indoor and outdoor use, taking into account the required surface properties (design, water-repellency, non-slip, reflectivity and texture).
It has the advantages of natural sand, while its disadvantages such as dust, mud, etc. are eliminated due to the compaction that exists with the addition of cement and paint.
Artevia® Stone imitates natural stone in all its characteristics.