Concrete is globally the most widespread building material. Due to its wide application in every form of construction, the consumption of concrete by a country (in cubic metres per inhabitant) constitutes an indicator of development of that country.
It is an artificial material – it is essentially an artificial stone - with multiple and constantly improving and expanding properties. In its basic form, which is used on a large scale, it consists of a homogenized mixture of controlled proportions of cement in powder form, water, sand and gravel of natural or artificial origin. Initially it has a fluid composition and over time, through exothermic chemical processes, it solidifies resulting in acquiring a vast bearing capacity.
Lafarge, a subsidiary of HERACLES Group, operates a network of fully organised and well-equipped concrete production and quality control complexes, which satisfy even the highest requirements throughout mainland and insular Greece.
The final quality of the concrete is dependent upon the technical characteristics and the individual quantities of its components, i.e. cement, aggregate and chemical additives (if used), as well as the amount of the added water. The key parameters that determine the concrete quality are:
• The minimum content of cement, in accordance with the requirements of concrete, based on CTR 2016;
• The water / cement ratio, according to the final features of the concrete and according to the requirements of the CTR 2016 standard
• The quantity and quality of aggregates so that the composition of the concrete is completed up to 1 m³.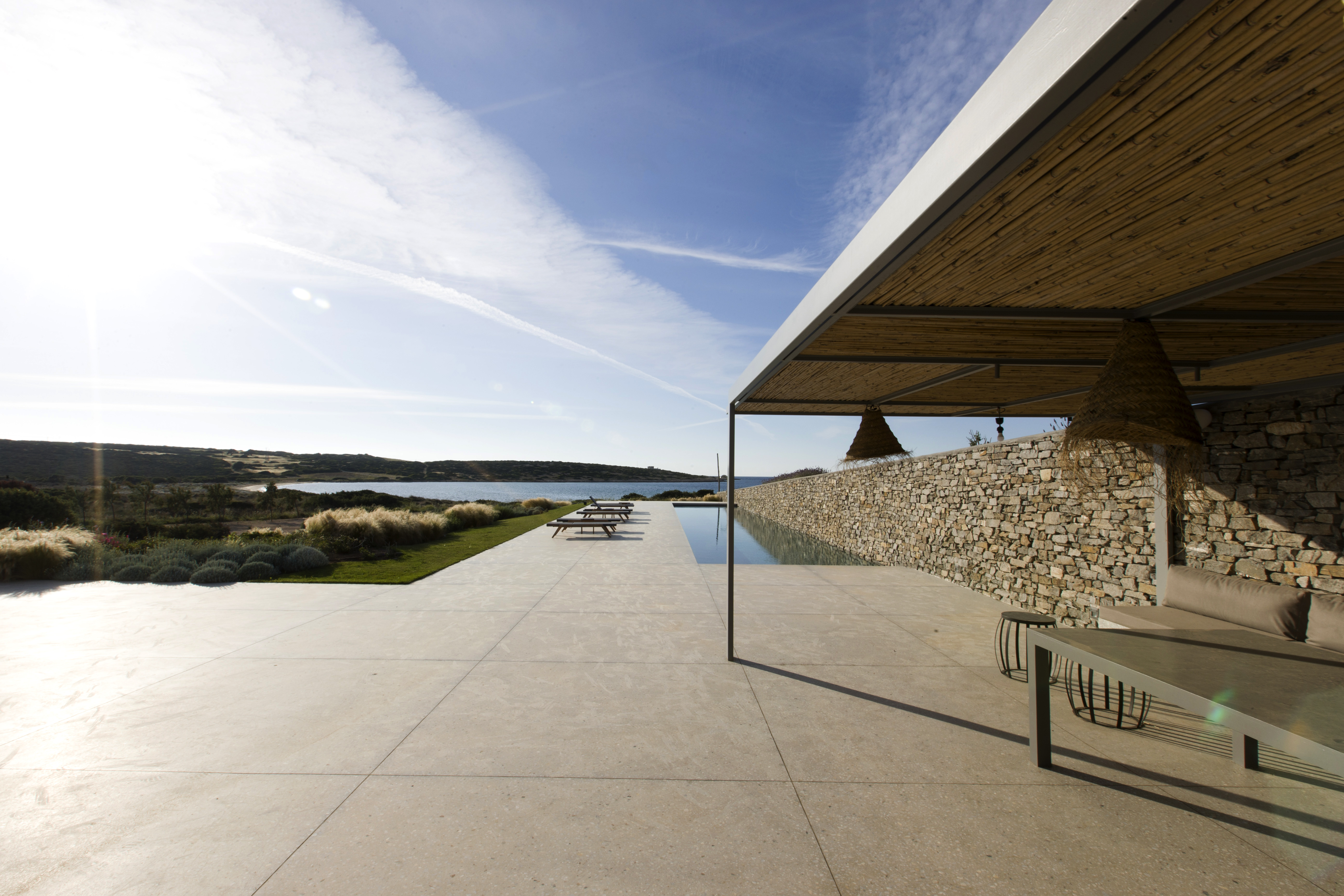 Main Characteristics of Concrete
1. WORKABILITY (FRESH CONCRETE) 
Workability is the property of fresh concrete that defines the ease with which it is transported, laid and compacted.
2. STRENGTH (HARDENED CONCRETE) 
The strength of the concrete is checked with specimens obtained in metal grids (15 x 15 x 15 cm). Category C 25/30 implies that it has characteristic strength (fck):
• With 25 MPa cylindrical test tubes
• With 30 MPa cubic test tubes
3. CONCRETE DURABILITY (MAINTAINING THE PROPERTIES OF HARDENED CONCRETE OVER TIME) 
The term concrete durability refers to the resistance of the specific material to effects that are exerted by the external environment and act over a long period of time. The factors that determine the durability of concrete are:
• Permeability of the concrete
• Exposure environment
Lafarge provides customers with unique services and technical support that differentiate it in the market. It undertakes the laying of concrete with specialised applicators through the "Laying and Finishing" service.
The objective of Lafarge is to provide top level customer service and constant communication throughout the duration of each project by ensuring the quality of the final result and the optimal use of the products.
Concrete Production Plants
Attica Prefecture
Aharnon Plant, 122 Ionias Street, Aharnes, Post Code 13671, telephone No: 210 2804600
Koropi Plant, 28th km Vari – Koropi Hwy., Post Code 19400, telephone No: 210 6625552
Rafina Plant, Platy Horafi Location, Arionos Street, Rafina, Post Code 19009, telephone No: 210 6043512
 
Achaia Prefecture
Lefkas Plant, Ag. Stefanos Saravali, Lefka Patras, Post Code 26221, telephone No: 2610 334006
 
Dodecanese Prefecture
Kos Plant, Antimacheia Community, Kos, Post Code 85302, telephone No: 22420 51008
 
Iraklion Prefecture
Iraklion Plant, 9th km Iraklion –Rethymno Hwy., Koumbedes, Tylissos Municipality, Post Code 71500, telephone No: 2810 824500
 
Thessaloniki Prefecture
Neohorouda Plant, 10th km Thessaloniki-Neohorouda Hwy., Thessaloniki, Post Code 57008, PO Box 243, telephone No: 2310 778300
Lakkia Plant, Lakkia Vasilikon, Thessaloniki, Post Code 57006, telephone No: 23960 22650
 
Kilkis Prefecture
Leventohori Plant, Leventohori, Kilkis, Post Code 61100, telephone No: 23410 25555
 
Cyclades Prefecture
Marathi Paros Plant, Marathi Paros, Paros, Post Code 84400, telephone No: 22840 22770
Angairias Paros Plant, Kampi Angairias Paros, Paros, Post Code 84400, telephone No: 22840 91728
Lesvos Prefecture
Mytilini Plant, Larsos Mytilini, Mytilini, Post Code 81100, telephone No: 22510 93293
Fthiotida Prefecture
Lamia Plant, 2nd km Lamia - Domokos Hwy., Lamia, Post Code 35100, telephone No: 22310 35084
Tragana Plant, Tragana Lokrida, Atalanti, Post Code 35200, telephone No: 22330 92374