HERACLES Group has been active in the solid fuels market since 1985. Thanks to the experienced executive team, the high-level know-how and advanced facilities, we have achieved high market shares, a leading presence in the country and a significant presence in international markets.
MODERN FACILITIES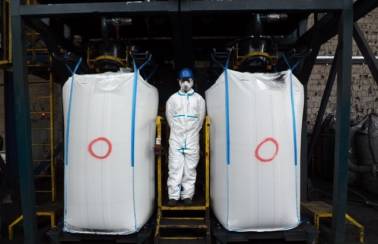 HERACLES Group operates state-of-the-art milling, sieving, mixing, packing and loading units that function 24 hours a day, every day, all year round.
It also operates:
A port serving ships up to 150.000 DWT
A Solid Fuel Warehouse with a capacity of 300.000 ΜΤ
The specialised sales and technical support teams combined with the implementation of international standards at all the production and processing stages ensure a high and stable level of product quality.
With international orientation
The capacity to provide materials in a wide range of qualities, the ability of immediately adapting to the quality specifications of every customer and the reliability of HERACLES Group is reflected in the strategic partnerships with international producers and traders.
For over 3 decades we have been providing guaranteed availability of material in our warehouses by supporting an extensive sales network in both the domestic and foreign market.
The customer in the forefront
The many years of know-how and experience combined with the modern facilities allow HERACLES Group to offer products with definite specifications tailored to the needs of customers. Finally, to better cater to the needs of our partners and the high demands of the projects in which we participate, we adjust our product deliveries accordingly:
By sea - By road
Bulk – Bagged
Continuous education and training of human resources are key tools for growth and development that ensure immediate response to new and continuously changing customer needs.