The modern "green" solution of HERACLES Group for building and plastering
LYSIS ECOPlanet cementitious masonry composition provides the solution for greater safety, convenience and a leading result, without the use of lime. It is a product with improved sustainability performance both during the production process and application. Thanks to its innovative composition, it has the lowest carbonate (CO2) footprint in the Greek market among corresponding compositions.
The advanced technology of LYSIS ECOPlanet, which makes lime addition unnecessary, ensures the health and safety of the craftsman during the process of mixing the materials. At the same time, its composition ensures consistently high quality, top workability even aesthetically pleasing final results.
LYSIS ECOPlanet is available in 40 kg bags for professionals and individuals through the extensive network of partners of HERACLES Group throughout Greece.
What LYSIS ECOPlanet offers
Thanks to the special high-tech additives it contains, LYSIS is a ready-made base where only sand and water are added. In this way, simplification of work and space saving at the construction site is achieved.
Lime is a scarce material in some regions while at the same time requires careful management at the construction sites both for reasons of user health during mixing and to protect other materials from corrosion. The non-use of lime enhances the safety of the tradesman and facilitates work.
CE certified, LYSIS works effectively in combination with all kinds of aggregates (limestone quarry sand - fine or coarse - river, marble powder, etc.), offering excellent results in both construction and plastering for all layers of plaster.
As a cementitious composition, LYSIS after mixing with sand and water creates a mortar with high workability that lasts for a long time. In this manner, it facilitates work and ensures fewer cracks as well as a highly aesthetic final result.
Applications
LYSIS responds to needs for:
Plaster (for all layers / applications): 1st coat (cast) - 2nd coat - top coat
Building mud (for brick, concrete block, etc.)
Floor filling, roofing, etc. (in combination with crushed, collectible or lightweight aggregate)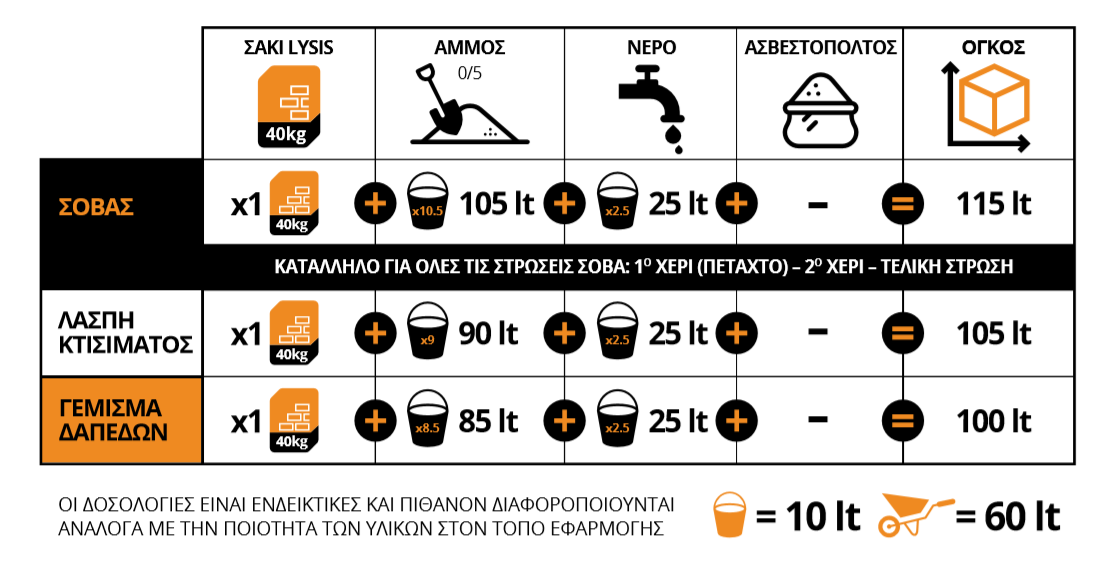 More information about LYSIS ECOPlanet
Health and Safety Lysis Data Sheet