The HERACLES GCC plant was established in 1982 and is the most modern cement production plant of HERACLES Group. Its vertically integrated structure combined with its geographical location render it crucial for our export activity.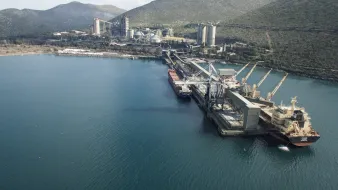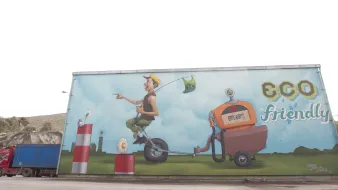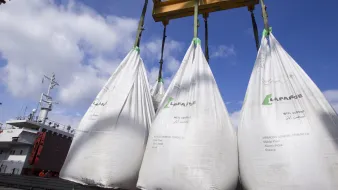 The specialised know-how of the plant, the continuous modernisation of the infrastructure and the high standards of safety and quality control guarantee the export of products that meet even the most demanding needs of the oil and gas extraction industry. The consistency and stable quality of the Milaki plant is also recognized by the American Petroleum Institute (API).
The plant's activity also includes the trade of solid fuels inside and outside Greece, with the ability to customise products to the specifications of each customer. A competitive advantage of the facility is the port, able to handle cargo ships up to 150,000 DW.
The Milaki plant currently exports HERACLES Group's products to more than 30 countries.
Class G type cement, for the extraction of oil and natural gas
Mixtures suitable for many applications in all parts of an oil well
Cement
Low alkali cement for special applications
Clinker
Aggregates
Solid Fuels
All packaging materials are specially designed to meet the specifications of the oil and gas extraction industry. Milaki plant operates an exclusive warehouse for oil and gas extraction products.
The protection of Health & Safety is a fundamental value and non-negotiable priority in all our activities for all of us at HERACLES Group. We implement the Holcim Health & Safety Policy with a view to zero accidents.
The continuous improvement of the Milaki plant in terms of Health & Safety matters remains a daily priority. Measures related to equipment, means of personal protection, standards and procedures for all work performed and appropriate training programs are implemented in order to calculate safe behaviour and enhance Health & Safety culture. More than 3,000 hours of training per year are dedicated to Health & Safety, out of a total of 7,300 hours of training for the plant workers in Milaki.
Expertise and high-level specialisation
All stages of production require high-level technical skills, strict adherence to procedures and strong team spirit. The factory is defined by high-level specialisation and know-how. With regular and intensive training programs we ensure the appropriate technical training and the development of the skills of our people, as well as the continuous improvement of our performance in Health & Safety. The plant's facilities are fully automated and are centrally controlled by the control room. The specialised operators supervise the factory's overall operations, inspect the facilities and make the necessary adjustments to the production process. At the same time, we are constantly monitoring the environmental performance of the factory. Dust and gas emissions are measured and analysed so that there is complete control of the process and the capability for immediate and timely intervention.